Local Guide

LOCAL GUIDE/KYOTO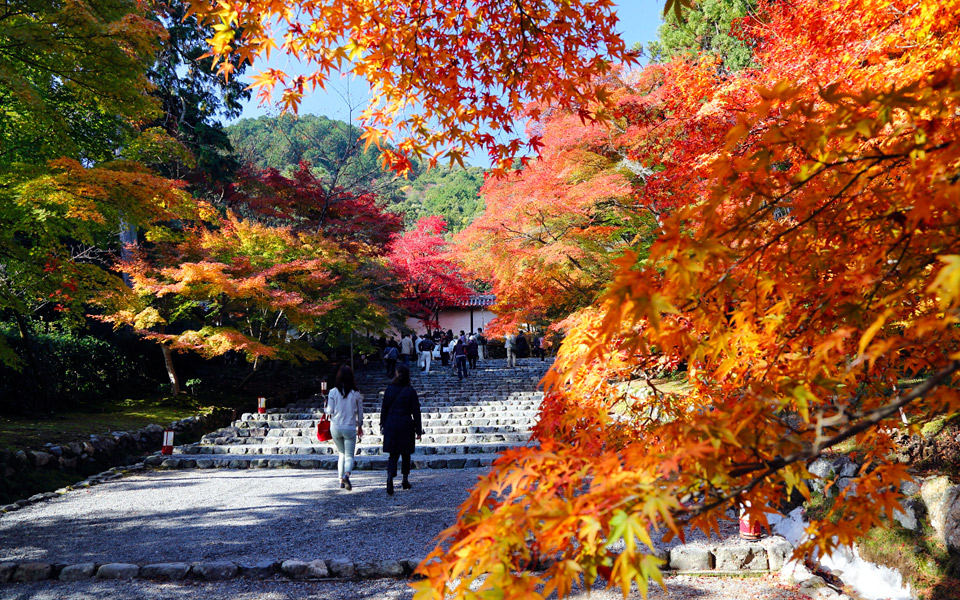 Kyoto is often called Japan's ancient capital and with good reason. Founded over 1,200 years ago and serving as the heart of political power for nearly 1,000 years Kyoto became the historical and cultural center of the country. Modern Kyoto is a vigorous city of nearly 1.5 million where past and present exist side-by-side everywhere one looks.

Kyoto allows a visitor to step back deep into Japan's past. While periodically affected by civil wars, fires or other natural disasters Kyoto was spared from the bombing campaigns of the Second World War. Preserved sites, streets and houses are outwardly thus as they were historically. Strolling the streets of Kyoto, a visitor can feel old Japan emanating from all around but still enjoy the comfort and convenience of a contemporary, active Japanese city.

Easily accessible by shinkansen bullet train from Tokyo or by direct express train service from Kanasi International Airport, visitors will arrive to a city with an excellent transportation system, laid out in a grid (a rarity in Japan) making directions and touring simple and straightforward. While known for hot, humid summers and cold winters, Kyoto also enjoys mild springs and autumns making the city a popular destination for it's ume plum and sakura cherry blossom viewing from February to April and autumn foliage from October to November.
Food

Kyoto has made many contributions to the development of food culture throughout Japan. Befitting a city known for its artistry and ornate designs, culinary inventions often place as much empashis on taste as appearance.

Kaiseki Ryori is a traditional deluxe dinner course of numerous small dishes, heavily influenced by Zen Buddhism and developed out of the Tea Ceremony. While menu offerings vary depending on the season, the details of each dish in a kaiseki-ryori meal are carefully considered, right down to the colour, size and shape of the plate and the appearance of the food that will be presented upon it. While best enjoyed at any of the traditional ryokan Japanese inns in Kyoto, many restaurants throughout the city also offer kaiseki-ryori course meals.
Wagashi are traditional sweets made from sweet azuki bean paste and mochi. Developed in tandem with the tea ceremony, Kyoto has long been at the forefront of wagashi evolution and craft. Designed to reflect the seasons, wagashi are often regarded as works of art on their own and are a favorite treat for locals and visitors alike.
Yudofu is a Kyoto specialty. Made from locally produced tofu, yudofu is a simple, healthy, satisfying dish of lightly boiled tofu in broth, dipped in soy or other sauces before eating. Kyoto has many yudofu specialty restaurants or for a truly authentic dining experience, try it at a local temple.
Attractions and Local Specialties

Kyoto is home to numerous World Heritage Sites, Designated National Treasures, historic districts, museums, parks, restaurants and shopping streets. A few of the many highlights located centrally in the city could include:

Nijo-jo Castle. Built in the early 17th century by the Tokugawa shogunate to provide protection to the nearby Imperial Palace as well as to serve as a home for the shogun when in Kyoto. A listed World Heritage Site, Nijo-jo Castle is well known for it's magnificent gardens, design and craftsmanship. Be sure to stroll the "nightingale" floors which were specifically designed to deter would be intruders.
Kiyomizudera Temple. Established in the 8th century, Kiyomizu-dera Temple is one of Kyoto's most significant landmarks. The view from the famous Kiyomizu-dera stage is fantastic while the streets that climb up to the temple gates are lined with all manner of shops, cafes and restaurants.
Kyoto Imperial Palace/Kyoto Gyoen Park. The seat of the Imperial Family, until the Meiji Restoration when the capital was officially moved to Tokyo, the Kyoto Imperial Palace today retains an atmosphere of ancient Kyoto. Located with the expansive Kyoto Gyoen Park, itself an excellent sightseeing location, visitors can stroll the grounds outside the palace or join a tour of the Imperial Palace itself (prior permission required).
Kinkakuji. The Golden Pavilion is beautifully reflected in the pond of the temple grounds.
Ginkakuji. Stroll through the beautiful stone gardens surrounding this ancient Silver Temple, located on the "Philosopher's Walk".
Ryōan-ji Temple. A Zen temple and World Heritage Site, famous for its tranquil stone garden.
Events & Activities

Kyoto is justifiably famous for it's annual festivals. However, the 4 grandest are the definite highlights on the annual celebrations calendar.

Gion Matsuri Festival. Begun over a 1,000 years ago, every July Kyoto's Shijo-dori Avenue hosts one of the largest festivals in Japan. Spectacular Yamaboko Floats share space with mikoshi portable shrines and the 1000s of festival participants, not to mention the thousands more lining the festival routes!
Aoi Matsuri Festival. Pre-dating even the Gion Festival, the Aoi Masturi creates a festival to evoke a more ancient Kyoto. Festival participants dress in ancient costumes while leading ox-driven carts carrying mikoshi through the streets. Temples, festival attendees and ox carts are all decorated with distinctive blue geranium flowers-giving the festival it's name (aoi- blue).
Jidai Matsuri Festival. This festival, held every October, is relatively new by Kyoto standards having been first held in the late 19th Century. Participants start out from Heian Shrine with different groups dressed in the costume of a different era, designed to symbolize Kyoto's 1,000 plus year history.
Gozan Fire Festival. Kyoto is a city surrounded by mountains. During the OBon Festival held every August, these hills of Kyoto become the star attraction as 5 massive kanji characters are lit up simultaneously creating a truly awesome scene and giving the night sky an amber glow.