Local Guide

LOCAL GUIDE/YOKOHAMA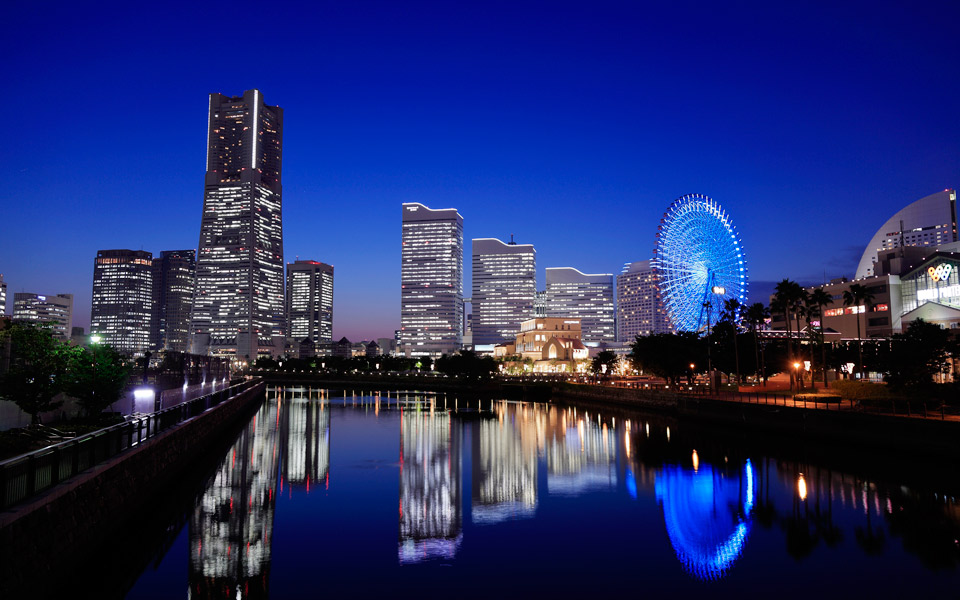 Yokohama, the largest city in Kanagawa Prefecture, is Japan's 2nd largest city and its most active port. Founded as far back as the 11th century, it was in the mid 19th century that Yokohama took a major role on the international stage for Japan. The city was designated as Japan's main trade harbor following the arrival of Admiral Perry's "Black Ships" and the subsequent opening of the country to international commerce. As the only area that foreign merchants and government representatives were allowed to reside and work outside of the southern island of Kyushu, Yokohama quickly developed an international and multi-cultural quality that continues to this day.

Accessible by shinkansen bullet train from major cities like Osaka, Nagoya and Kobe, Yokohama also has numerous fast, direct commuter links with Tokyo and even Narita International Airport making it a popular place for travelers from Tokyo looking to enjoy a one day trip or for tourists looking to enjoy Yokohama and the famous sites a little further away such as Kamakura, Enoshima and Hakone.

With its seaside location, Yokohama enjoys more comfortable springs, summers and more temperate autumns and winters than Tokyo. Events and festivals run throughout the year, drawing crowds from around Kanagawa and Tokyo. Enjoy a different kind of modern Japan in Yokohama!
Food

Yokohama, with its seaside location and fusion of different cultures has developed a food culture all it's own with a vast array of dishes and restaurants to suit the casual traveler to the serious foodie.

Chinese cuisine. Yokohama is host to the largest Chinatown in Japan. Enthusiasts flock to this area which boasts more than 500 restaurants serving everything from authentic high-end dinner courses to popular street food selections like niku-man, a steamed bun filled with savoury meat and vegetables.
Gyunabe. Yokohama's contribution to Japanese nabe hot pot dishes. Tender selections of beef are added to a broth at the table with seasonal vegetables. First served here in the mid 19th century, today gyunabe is enjoyed all over the country.
Unagi (Eel). Grilled or cured eel, has been a popular dish in Japan since at least the 8th century. Favoured for it's tender meat and high protein, unagi is a staple of summer eating but can be enjoyed all year round. There are several variations on this dish of grilled eel to try, each with it's own unique presentation and flavor!
Attractions and Local Specialties

Yokohama abounds in sightseeing spots throughout the city. Popular with tourists for its wide variety of attractions and seaside location, the city and nearby environs has something for every travel plan.

Yamashita-koen Park. This large, seaside park is one of the city's most visited. Locals and tourists alike enjoy the natural setting, oceanside views, the amazing design of the Yokohama International Ferry Terminal and the many seaside cafes located just across the street. Enjoy a sea-taxi ride to nearby Minato-murai or a relaxing ferry cruise around Yokohama Bay.
Yokohama Chuukagai (Chinatown). The largest Chinatown in Japan, and reputed to be the world's biggest, Yokohama Chinatown is a magnet for locals and tourists alike. Ornate gates mark the various entrances to a district with over 500 restaurants covering every aspect of Chinese cuisine, the beautiful Kantei-byo Temple, specialty shops and an atmosphere unlike any in the country.
Minato-Mirai. A modern and romantic area, notable for the soaring Landmark Tower (whose observatory has an incredible view over Yokohama and beyond), modern shopping centers, museums, restaurants, a theme park and the restored Yokohama Aka Renga Warehouse.
Events & Activities

Yokohama is a city that enjoys its festivals and puts it's own stamp on these events. Expect festivals or events that are at once bigger and bolder but at the same time very community orientated.

Yokohama Street Performance Festival. Every April, this huge street performance carnival covers the entire city with magic, special performances and concerts as Yokohama hosts it's own fringe festival.
Chinese New Year Celebrations. As one might expect from the Japan's biggest Chinatown, Chinese New Year celebrations every February are days of lantern lights, dragon dances, music and parades.