LOCATIONS
ALL AREAS
SAPPORO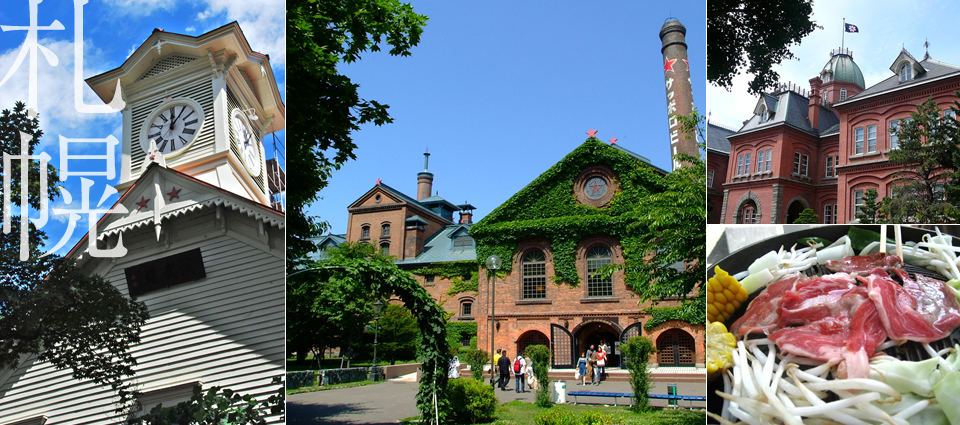 SAPPORO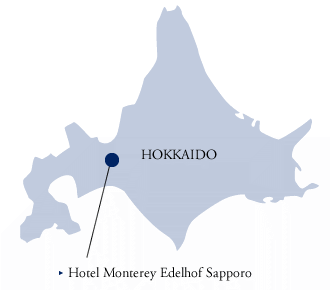 Hokkaido's capital city of Sapporo retains a unique mixture of modern Japanese efficiency and technology with a more relaxed approach to daily life influenced by the environment and climate making any visit a pleasant change from the frenetic pace of other major centers in the country.
Drawing its name from the indigenous Ainu terminology meaning "river-lined-with-large-reed-bed", Sapporo was officially founded in 1869 very early in Japan's Meiji Era.
Designed on a grid pattern and boasting several train and subway lines and even a tram line, Sapporo is one of Japan's easiest cities to travel in.
Adding to this distinctiveness, Sapporo is spared a rainy season, unlike the rest of Japan. A mild spring, pleasant summer, cool autumn and snowy winter characterize a year in Sapporo. Average temperatures during most months make Sapporo an ideal destination and base for an outdoor or nature enthusiast while winter brings perfect temperatures for snow and winter sports. Ski Season generally starts in mid-December and can last as long as late April!
Hotel in Sapporo
Being located just 5 minutes on foot from JR Sapporo Station makes the hotel conveniently situated for both business and sightseeing / shopping.
Higashi 1-3 Kita 4 Jyo, Chuo-ku, Sapporo, Hokkaido, 060-0034, Japan
PHONE +81-11-232-7111
7 minutes on foot from JR Sapporo Station, or 5 minutes on foot from Odori Subway Station (Toho, Tozai and Nanboku lines). Conveniently situated for both business and sightseeing.
Nishi 1-1, Kita 2 Jyo, Chuo-ku, Sapporo, Hokkaido, 060-0002, Japan
PHONE +81-11-242-7111
SENDAI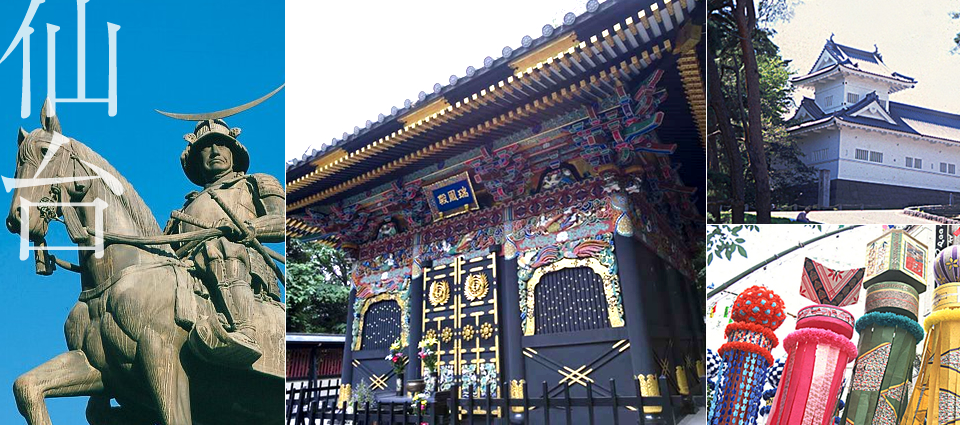 SENDAI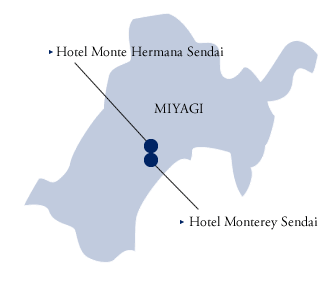 Sendai, with a population of around 1.5m, is the largest city in the T?hoku Region of Japan and is an important hub for regional business, logistics and transportation. Founded by the samurai Date Masamune in around 1600, the city is also know for its numerous universities, as well as its rich culture and history.
Located just 1hr 40mins from Tokyo on the bullet train, the city is easily accessible by rail or car. The city itself is modern and relaxing, while the surrounding areas offer breathtaking scenery such as the mountains of Zao or the beautiful small islands of Matsushima. The climate is quite temperate for Japan, yet the proximity of the mountains allows visitors to enjoy the beauty of the four seasons, especially the vivid maple leaves in autumn and the snow-capped mountain peaks of winter.
The city is nicknamed the City of Trees, as residents were encouraged to plant trees in their gardens before World War 2, and visitors can still see the zelkova trees that line the streets and parks of the city to this day.
They will find themselves in a region of incredible sights, sounds and tastes in the midst of a city of originality, imagination and hospitality.
Hotel in SENDAI
Located just 3 minutes on foot from Sendai Station ("the gateway of the north"), the hotel is ideally situated for both business and leisure.
4-1-8 Chuo, Aoba-ku, Sendai, Miyagi, 980-0021, Japan
PHONE +81-22-265-7110
Located just a few minutes from Sendai Station via the pedestrian deck, the hotel is ideally situated for a diverse range of activities, from business to sightseeing and shopping.
1-2-15 Kakyoin, Aoba-ku, Sendai, Miyagi, 980-0013, Japan
PHONE +81-22-721-7501
TOKYO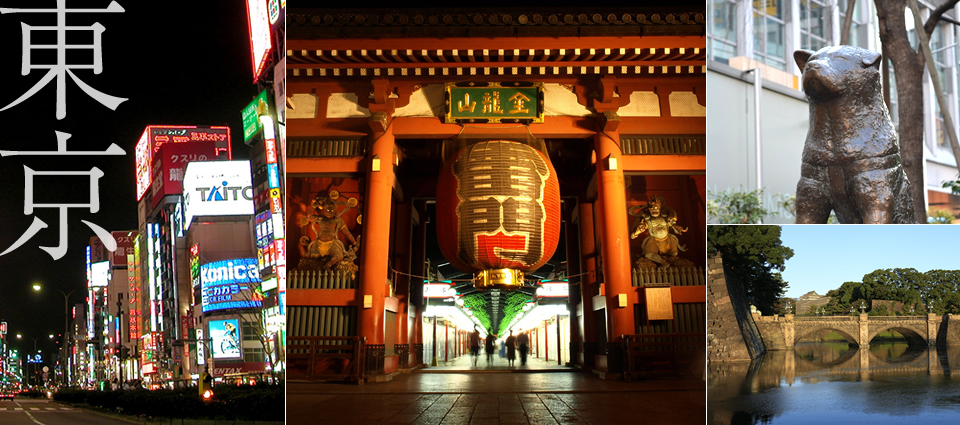 TOKYO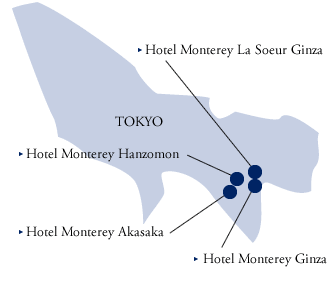 Bustling, busy, safe, dynamic, fascinating, exciting, energizing- Tokyo is all these things. Asia's biggest metropolis is known the world over for it's cutting-edge technology, dramatic architecture, trend-setting fashion and, of course, award winning cuisine!
Yet, Japan's capital is not merely a city of crowds, commerce, glass and steel. A visitor soon finds that for every skyscraper there is a shrine or temple, a place of calm and stillness. For every shopping centre a well-tended park where the seasons are marked by the changing blossoms and foliage. Trendy modern restaurants share space with traditional neighborhood operations who have been serving customers for generations.
Spring and Autumn are favorite times for locals and tourists as the temperatures are pleasant, the seasonal dishes delicious and seasonal colours stunning. Winters are cold but rarely see snow. Summers are hot and humid but also the season for festivals, fireworks and other entertaining events.
Served by the most extensive commuter rail and subway system in the world, a traveler can rest assured - these trains will, with very rare exceptions, be on time, clean and efficient!
One visit to Tokyo may not be enough, but any visit will leave memories that will last a lifetime!
Hotel in TOKYO
The hotel is situated close to Ginza Chuo-dori where one can find numerous restaurants and renowned fashion boutiques, making it an ideal location for shopping, cuisine and business.
2-10-2 Ginza, Chuo-Ku, Tokyo, 104-0061, Japan
PHONE +81-3-3544-7111
The hotel is located in the vicinity of Hotel Monterey Ginza, so it is also an ideal location for shopping, cuisine and business.
1-10-18 Ginza, Chuo-ku, Tokyo, 104-0061, Japan
PHONE +81-3-3562-7111
Located in the center of Tokyo and situated just across the street from Hanzomon Subway Station, the hotel offers easy access for business and sightseeing alike.
23-1 Ichiban-cho, Chiyoda-ku, Tokyo, 102-0082, Japan
PHONE +81-3-3556-7111
The hotel is situated close to Akasaka-Mitsuke Station, providing direct access to Tokyo, Ginza, Shibuya and Shinjuku stations, all within 10 minutes on the subway. Hotel Monterey Akasaka is the perfect base for both business and sightseeing.
4-9-24 Akasaka, Minato-ku, Tokyo, 107-0052, Japan
PHONE +81-3-3401-7111
YOKOHAMA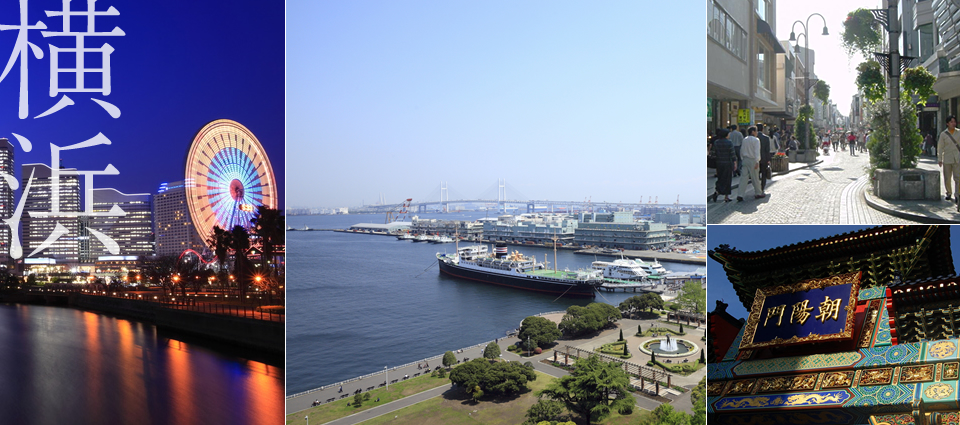 YOKOHAMA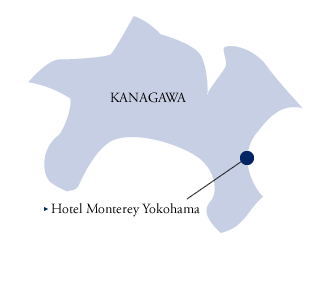 Yokohama, the largest city in Kanagawa Prefecture, is Japan's 2nd largest city and it's most active port. Founded as far back as the 11th century, it was in the mid 19th century that Yokohama took a major role on the international stage for Japan. The city was designated as Japan's main trade harbor following the arrival of Admiral Perry's "Black Ships" and the subsequent opening of the country to international commerce. As the only area that foreign merchants and government representatives were allowed to reside and work outside of the southern island of Kyushu, Yokohama quickly developed an international and multi-cultural quality that continues to this day.
Accessible by shinkansen bullet train from major cities like Osaka, Nagoya and Kobe, Yokohama also has numerous fast, direct commuter links with Tokyo and even Narita International Airport making it a popular place for travelers from Tokyo looking to enjoy a one day trip or for tourists looking to enjoy Yokohama and the famous sites a little further away such as Kamakura, Enoshima and Hakone.
With it's seaside location, Yokohama enjoys more comfortable springs, summers and more temperate autumns and winters than Tokyo. Events and festivals run throughout the year, drawing crowds from around Kanagawa and Tokyo. Enjoy a different kind of modern Japan in Yokohama!
Hotel in YOKOHAMA
Situated by Yokohama Port and Miyashita Park, the hotel is also just a short 5 minute walk from Chinatown. An ideal base for exploring the charming city of Yokohama and exotic flavor of Chinatown.
6-1 Yamashita-cho, Naka-ku, Yokohama, Kanagawa, 231-8526, Japan
PHONE +81-45-330-7111
KYOTO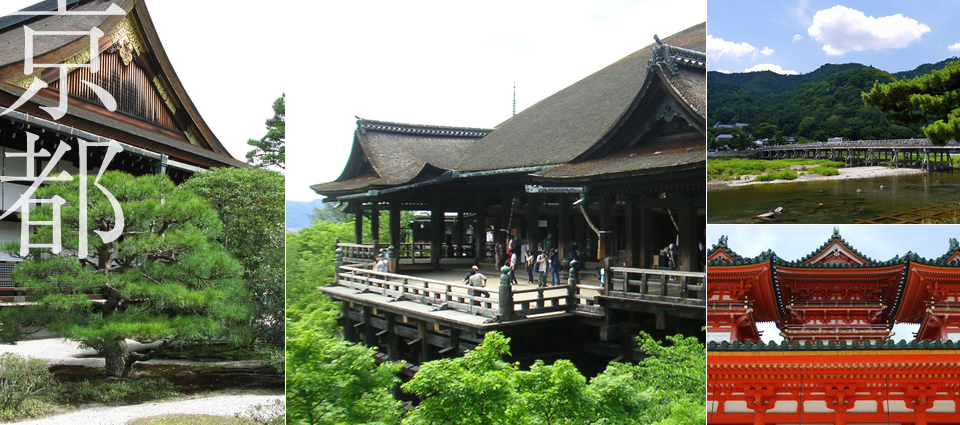 KYOTO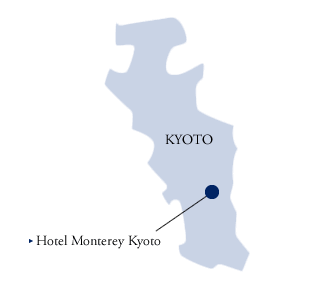 Kyoto is often called Japan's ancient capital and with good reason. Founded over 1,200 years ago and serving as the heart of political power for nearly 1,000 years Kyoto became the historical and cultural center of the country. Modern Kyoto is a vigorous city of nearly 1.5 million where past and present exist side-by-side everywhere one looks.
Kyoto allows a visitor to step back deep into Japan's past. While periodically affected by civil wars, fires or other natural disasters Kyoto was spared from the bombing campaigns of the Second World War. Preserved sites, streets and houses are outwardly thus as they were historically. Strolling the streets of Kyoto, a visitor can feel old Japan emanating from all around but still enjoy the comfort and convenience of a contemporary, active Japanese city.
Easily accessible by shinkansen bullet train from Tokyo or by direct express train service from Kanasi International Airport, visitors will arrive to a city with an excellent transportation system, laid out in a grid (a rarity in Japan) making directions and touring simple and straightforward. While known for hot, humid summers and cold winters, Kyoto also enjoys mild springs and autumns making the city a popular destination for it's ume plum and sakura cherry blossom viewing from February to April and autumn foliage from October to November.
Hotel in KYOTO
Located at Karasuma Sanjo in the center of Kyoto, the hotel offers easy access by subway and bus to a host of famous spots in the city. Conveniently situated for both sightseeing and business, the hotel is just a short subway or taxi ride from Kyoto station.
604 Manjuya-cho, Sanjo-kudaru, Karasuma-dori, Nakagyo-ku, Kyoto,
604-8161, Japan
PHONE +81-75-251-7111
OSAKA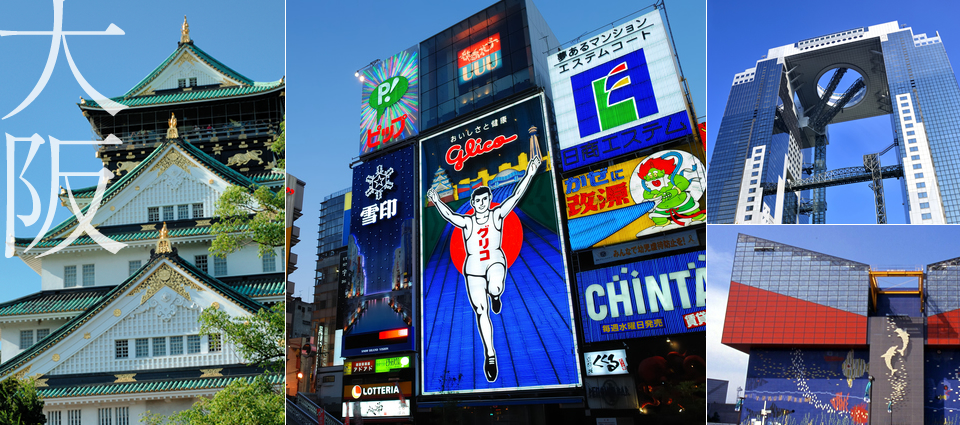 OSAKA
Osaka is big, bold, and boisterous. An ancient city established 1,400 years ago that is today Japan's 2nd City, Osaka is famous for it's long history of commerce and industry as well as it's major contributions to Japanese traditional and modern culture, especially stage and popular arts, as well as Japanese cuisine.
With a population of 2.5 million, Osaka is the centre of the Kansai area and a city that does not stop. Two major airports are located within the city limits while regular shinkansen bullet train service links Osaka with Tokyo, Nagoya, Kyoto and Kobe quickly and conveniently. A massive network of subways and commuter trains ensures that all areas of the city are simple and fast to reach.
At first glance, Osaka would not seem an obvious place for anything more than a stopover on a tour of Japan or as a base for exploring other areas. However, a closer look reveals a city with an unique history, culture and traditions just waiting to be experienced and a city atmosphere unlike anywhere else in Japan.
Hotel in OSAKA
The hotel is located close to JR Osaka Station and Umeda Subway Station, making it convenient to get around in all directions. It is also easy to access the hotel via the Shinkansen from Shin-Osaka Station, or from any of the surrounding airports.
3-3-45 Umeda, Kita-ku, Osaka, Osaka, 530-0001, Japan
PHONE +81-6-6458-7111
The hotel is located in the Osaka Business Park, making it convenient to get around in all directions. It is very easy to access the hotel via the Shinkansen from Shin-Osaka Station, or from any of the surrounding airports.
2-2-22 Shiromi, Chuo-ku, Osaka, Osaka, 540-0001, Japan
PHONE +81-6-6944-7111
Hotel Monterey Grassmere Osaka is located in Namba, central Osaka, making it an ideal base for both business and leisure. It is easy to access many popular spots such as Dotonbori Street, Shinsaibashi and Den Den Town shopping district. The hotel is located just one minute on foot from Namba Station which has a direct line to Kansai International Airport.
1-2-3 Minatomachi, Naniwa-ku, Osaka, Osaka,556-0017, Japan
PHONE +81-6-6645-7111
KOBE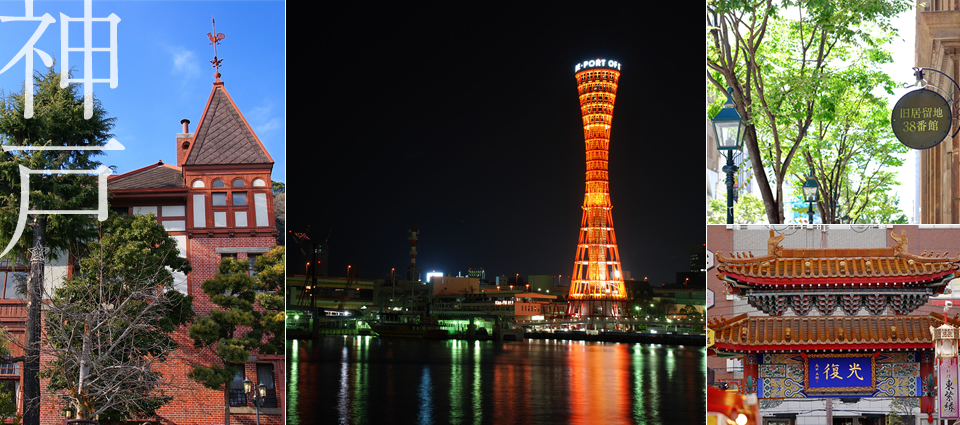 KOBE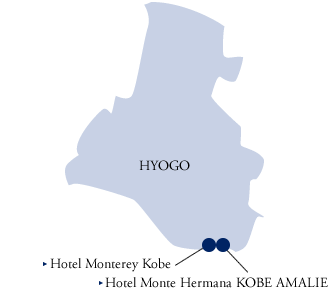 Kobe, the capital of Hyogo Prefecture, is one of Japan's biggest and busiest port cities. Tracing it's origins back nearly 9 centuries, Kobe has always been an important hub for international trade and exchange.
Easily accessible by air or shinkansen bullet train, Kobe also maintains an extensive network of municipal subway and commuter train lines as well as express train links with Osaka, Kyoto and Himeji making it's location ideal for travel or business in the region. Indeed, many major Japanese and international corporations maintain head offices in Kobe.
Visitors to Kobe will find a lively, modern, comfortable city with a fascinating history and unique culture that offers up a wide variety of attractions to entertain and enthrall any traveller.
Hotel in KOBE
Kobe has a classical multicultural flavor due to the presence of China Town, the Foreign Residence Area and the Former Foreign Settlement. The stylish streetlife is near at hand, while the hotel's location also makes it a suitable base for business travelers.
2-11-13 Shimoyamate-dori, Chuo-ku, Kobe, Hyogo, 650-0031, Japan
PHONE +81-78-392-7111
Combining the best of both worlds, the hotel offers easy access to major sightseeing spots whilst also being tucked away from the main hustle and bustle of the city. Located adjacent to Ikuta Shrine, there are many tourist attractions within walking distance of of the hotel, making it a perfect base for your trip.
2-2-28 Nakayamate-dori,Chuo-ku,Kobe,Hyogo,650-0004,Japan
Hotel Monte Hermana KOBE AMALIE
PHONE +81-78-393-7111
FUKUOKA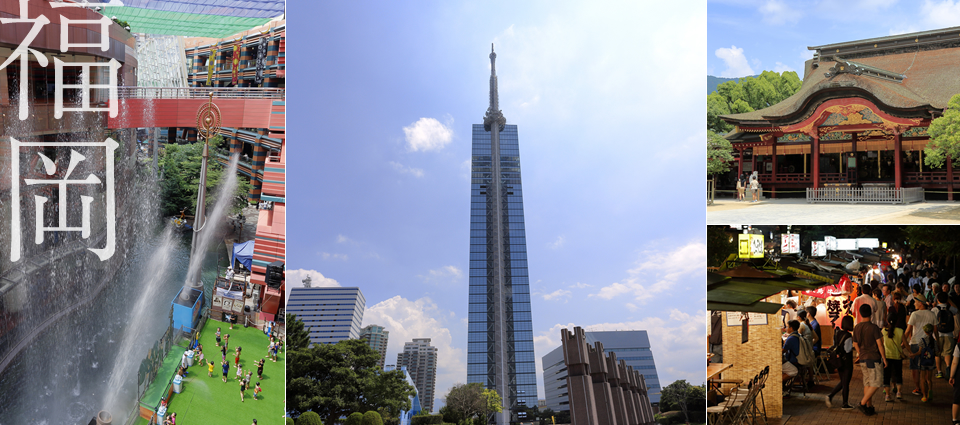 FUKUOKA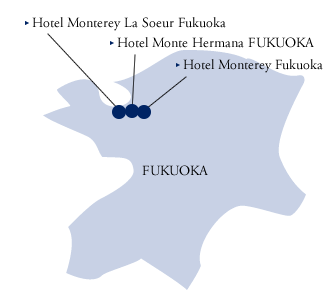 Kyushu's commercial and entertainment hub, Fukuoka is often cited on international "Best of" lists for it's culture, lifestyle and business climate. One of Japan's oldest and largest cities, Fukuoka often feels like more of a cozy, friendly town than the lively, energetic city it actually is.
Visitors to Fukuoka will find themselves in an enjoyable seaside city with excellent transport links . Fukuoka International Airport is a mere 10 minute subway ride from the centrally located Hakata Station. Shinkansen bullet trains run regular services to Fukuoka making travel around Kyushu or from major centers on the main island of Honshu simple and convenient. Once arrived in the city, travelers will find a city well-connected by a network of subways, surface rail lines and bus routes making Fukuoka one of Japan's most easily reached and navigated cities.
Enjoying a more moderate climate than other areas of the country, Fukuoka seldom has temperatures below 0 during the winter and snow is a rare thing indeed! While the rainy season in early summer can see large amounts of rainfall, Spring and Autumn are often very pleasant while summers are hot and humid but alleviated by refreshing ocean breezes. Festivals run throughout the year and visitors will find a wide variety of attractions both natural and modern.
Hotel in FUKUOKA
Situated in Tenjin in the heart of Fukuoka, the hotel offers smooth access in all directions. Furthermore, guests can explore and enjoy the numerous yatai food stalls that line the streets around the hotel.
2-8-27 Daimyo, Chuo-ku, Fukuoka, Fukuoka, 810-0041, Japan
PHONE +81-92-726-7111
The hotel has been designed to evoke the landscape and atmosphere of vineyards along the wine routes that spread out from Bordeaux, which is one of Fukuoka's sister cities. The interiors feature relaxed and whimsical designs, such as corridors resembling footpaths winding through vineyards, or public spaces which have an air of French glitz and glamour. With this in mind, we hope that guests will feel our hotel is a place they wish to return to time and again.
3-4-24 watanabe-dori, Chuo-ku, Fukuoka, Fukuoka, 810-0004, Japan
Hotel Monte Hermana FUKUOKA
PHONE +81-92-735-7111
NAGASAKI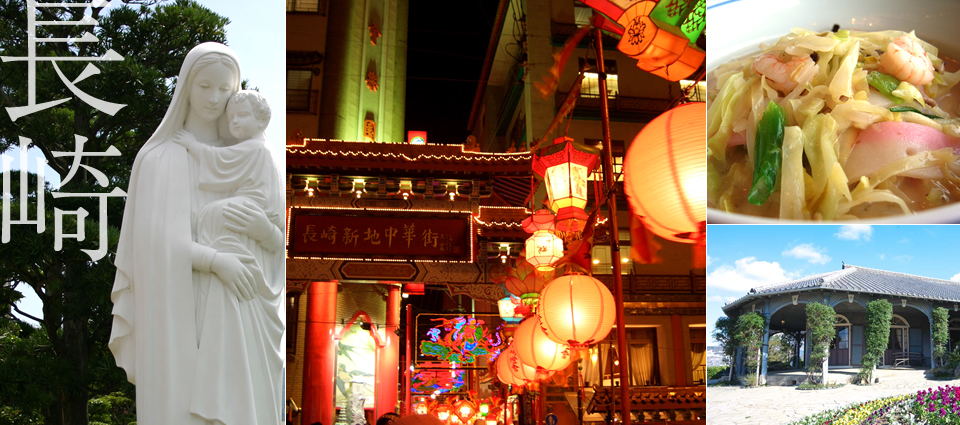 NAGASAKI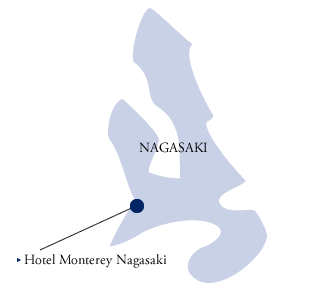 Nagasaki. It's nearly impossible to separate it from it's recent tragic past, but Nagasaki is a city with a rich history and culture as well as it's present-day dynamism. Visitors should not be misled into believing this to be sad place. The memory of the atomic bombing is respected and remembered, but Nagasaki is a city which dates back through the centuries as one of Japan's most dynamic and internationalized. Fascinating cultural, culinary and historical attractions await any visitor to this vibrant port city.
Nagasaki can trace its origins to the late 7th Century and was always Japan's first window on the world. Early contact and trade with merchants from China, Korea and Southeast Asia and then 16th Century business with Portuguese and Dutch merchants left a lasting impression on Nagasaki and it's citizens, which later spread to the whole of Japan.
As a seaside port, spring, autumn and winters are milder than cities further north while summers tend to be hot but more comfortable than other areas with refreshing ocean breezes to help combat any humidity. Though spread out over a fairly large area, Nagasaki has extensive streetcar services which only add to the unique atmosphere of the city. These trams are augmented by bus and rail systems that make the city very easy to navigate. The city is also served by the Kyushu Shinkansen.
Hotel in NAGASAKI
Nagasaki, famous for its iconic Oura Church and the site of the former Glover Residence, re-enacted onstage for the opera "Madama Butterfly", and the Dutch Slope, make for a unique and multi-cultural atmosphere in the city. The hotel's location is a perfect base from which to explore the numerous sightseeing spots of Nagasaki.
1-22 Oura-machi, Nagasaki, Nagasaki, 850-0918, Japan
PHONE +81-95-827-7111
OKINAWA
OKINAWA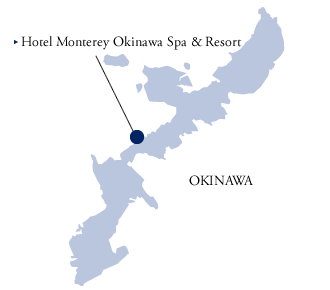 Okinawa is often referred to as "Japan's Hawaii" and it is easy to see why with its sandy beaches, tropical climate and laid back life-style. However there is much more to Okinawa than first meets the eye due to its unique culture, natural beauty and long history. Hotel Monterey Okinawa Spa and Resort is located on the main island, although Okinawa itself is made up of hundreds of smaller islands, roughly 50 of which are inhabited. Several islands are accessible by boat for a day trip from Naha Port.
The subtropical climate ensures that Okinawa is home to a wide variety of fruits and plants, while the consistently high temperatures mean that tourists flock there all year round. Most come to unwind on the sandy beaches, soaking up the sun and enjoying the atmosphere of a tropical resort, while those into marine sports are also exceptionally well accommodated, with an infinite number of dive spots, traditional activities such as wind surfing and snorkeling, as well as more recent inventions such as "flyboarding" or "jetpacking".
Of course the beaches and accompanying activities are the main draw, but Okinawa also has a rich culture, steeped in tradition. This local "Ryukyu" culture survives well to this day, and visitors can enjoy various arts and crafts, theatre, music, sports, cuisine and festivals unique to the region.
Hotel in OKINAWA
Approximately 70 mins by car, or 75 mins by limousine bus, from Naha Airport to our picturesque resort.
1550-1 Fuchaku, Onnason, Kunigami-gun, Okinawa, 904-0413, Japan
PHONE +81-98-993-7111